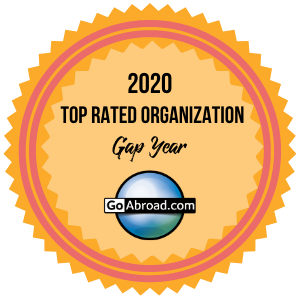 Our Mission
At Gapforce, we are passionate about travel and the positive impact it has on young people's outlook and future prospects. Our mission is to help people become global citizens through authentic, socially and environmentally responsible travel experiences which aid self-discovery and personal development.
Through our range of school group trips, gap year programs, training courses and internships, we aim to provide our participants with a unique collection of experiences designed for different stages of life.
Our Commitment
We aim to achieve this through three key commitments to our participants:
Personalised Customer Service
Gapforce is committed to providing a highly personalised service from your initial contact right through to the expedition itself, and we do this via our team of dedicated staff who are responsible for customer service at key stages of your experience:
Program Advisor: Your initial point of contact will usually be one of our program advisors who are well-travelled themselves and passionate about the benefits that travel brings. Their job is to make sure you have all the necessary information to enable you to make an informed decision about which adventure is the right one for you.
Operational Support: Once you've decided on your adventure and booked your place, you will connected with a dedicated member of our operations team who's job is to guide you through the planning and preparation stages and makes sure you have everything you need before you go. Attention to details is their specialty and they go to great lengths to ensure a smooth pre-departure experience.
Leadership Team: This is our team looking after you on the ground and made up of Expedition Leaders on our group travel programs and suitably experienced local staff on our dive courses and internship programs. They are the ones responsible for making sure your program runs smoothly and safety and we have gone to great lengths to source the best in the business, a further commitment being that the majority of our group travel leaders have graduated from our intensive four month Expedition Leader Training Course.

Social & Environmental Responsibility
Gapforce is committed to exert a positive impact on the regions, countries and communities which we visit. For us it is paramount that the local organisations and communities benefit from our cooperation and we aim to ensure this by working with trusted partners:
Local Businesses: we work with authentic local service providers selected on account of their strong codes of practice and commitment to customer satisfaction.
Community Projects: projects are sourced and vetted locally to ensure they are needed by the local community, aims and objectives clear and achievable, and there is a plan in place to ensure the longevity of the project.
Environmental Projects: We only work with recognised organisations with a strong background in sustainable environmental and wildlife conservation, and a clear and unambiguous goal for the future.
Safety & Security
Gapforce is committed to the highest levels of safety and security. We cannot remove risk from overseas travel altogether but by following a clear set of processes and management systems, we aim to reduce your level of risk compared to independent travel in the same location.
Industry Standards: To guide us, we follow the standards set by BS8848 "Specifications for visits, fieldwork, expeditions and adventurous activities outside the UK". Gapforce is also a Duke of Edinburgh Approved Activity Provider (AAP), and we are members of Year Out Group who set guidelines and policy for UK Gap Year providers.
Safety Policy: We have a detailed safety policy which sets out how we identify and manage risk and starts from your initial enquiry right the way through to your program and evaluation after. This is a dynamic policy which is regularly reviewed and updated as part of our continuous improvement strategy.
Financial Bonding: Gapforce (London) Ltd is a company committed to customer satisfaction and consumer financial protection. We are therefore pleased to announce that, at no extra cost to you, and in accordance with ''The Package Travel, Package Tours Regulations 1992'' all passengers booking with Gapforce (London) Ltd are fully insured for the initial deposit, and subsequently the balance of monies paid as detailed in your booking confirmation form. The policy will also include repatriation if required, arising from the cancellation or curtailment of your travel arrangements due to the insolvency of Gapforce (London) Ltd. This insurance has been arranged by Towergate Chapman Stevens through Zurich Insurance PLC. From 1st April 2020 all bookings made are protected under Protected Trust Services
Whether you are a teacher interested in a running an educational expedition to Costa Rica or a student planning a Gap Year in Australia, we will apply the same commitments to ensure you have the best possible experience.